Our Leadership Team
Since 1921, federal, local and state government and some of our nation's most respected organizations have entrusted Graduate School USA (GSUSA) to train and develop their employees to become their biggest assets. 
From 176 students in eight courses to now more than 250 courses and thousands of students worldwide each year, one thing has remained the same – GSUSA's commitment to our customers' success.
Take a moment to learn more information about the Graduate School USA leadership team.
Pepe Carreras, CFA
President
JR "Pepe" Carreras was named as President of Graduate School USA in January of 2023, and is a leader with 30 years of global customer success, marketing and branding expertise, and with 15 years of experience in education solutions.
Mr. Carreras most recently was Vice President of Education Solutions at National Student Clearinghouse, where he oversaw several areas, including business development, service innovation networks, grants and program management, and product management. Prior to that, he was the College Board's Vice President and General Manager for Puerto Rico and Latin America, where he more than doubled the company's revenue and students served within the region. Carreras served in that capacity for nearly six years. He also served in global strategy roles at the Graduate Management Admission Council (GMAC).
Mr. Carreras has a Master of Business Administration from Northwestern University Kellogg School of Management, and a bachelor's degree from Boston College.
Mary Bartlett
Senior Vice President, Operations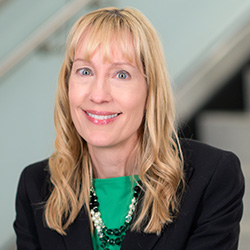 Mary Bartlett joined Graduate School USA in January 2022 as the Senior Vice President, Operations, after leading the integration of Graduate School USA into American Public Education, Inc., where she was the Vice President of Acquisitions.  As Graduate School USA's SVP of Operations, Ms. Bartlett is responsible for building the objectives and values and ensuring the company has the proper operational controls and metrics, organizational structure, administrative and reporting procedures, and people systems in place to provide a foundation to effectively grow the organization.
Ms. Bartlett has spent over 16 years in various operational capacities focused on optimizing operations, growing revenue, improving customer loyalty, streamlining processes, integrating change, and building high-performing teams as the COO in the shared office space industry at The Reserve and as Vice President and General Manager at Arise Virtual Solutions, a global virtual workforce solutions company.
Earlier in her career, Ms. Bartlett was a Director of Operations with Accenture. She graduated from the University of St. Thomas, St. Paul, Minnesota, with a Bachelor of Arts in both Marketing and Communications.
Ed Bach
Vice President of Business Development
Mr. Ed Bach is Vice President of Business Development at Graduate School USA. In that role, he, and his team of business development specialists shape innovative federal relationships that enable agencies to grow their talent and meet their organizational objectives. He joined the parent company, APEI in August of 2021. Prior to his time at APEI, he served as the Vice President of Strategic Partnerships for the University of Maryland Global Campus for five years.
His career spans more than 25 years in executive management working with global partners where he grew and scaled both emerging and Fortune 500 companies. He has served in the capacity of President and Vice President in public and private firms since 1988. Before joining the APEI team, he spent significant time in the technology industry where he re-engineered business development teams that produced consistent revenue growth and forged innovative partnerships. He was a key component in executing corporate mergers at such firms as Westinghouse and PageNet while growing revenue.
Prior to his experience in technology, he founded and led an education and organizational development company in Columbia, Maryland that had critical success with firms including the Federal Government and vertical markets such as healthcare, manufacturing, biotech and engineering.
Ed received his bachelor's degree in marketing from George Mason University in Fairfax, Virginia.