IVLP
The International Visitor Leadership Program (IVLP) is a U.S. Department of State funded professional exchange program that brings current and emerging foreign leaders to the United States.
The majority of IVLP projects include visits to three to four diverse U.S. communities over three weeks. The professional focus of projects spans a myriad of topics ranging from climate change and renewable energy to interfaith dialogue, community policing, grassroots democracy, cyber-crime, disability rights, and countless others.
IVLP participants engage with their professional counterparts, visit U.S. public and private sector organizations related to the project theme, and participate in cultural and social activities that better acquaint them with U.S. culture and best practices.
IVLP was launched in 1940 to strengthen U.S. engagement with countries around the world and cultivate lasting relationships by helping current and future leaders share knowledge, grow professionally, improve their institutions, and enhance mutual understanding throughout the U.S. and abroad.
Each year nearly 5,000 exchange participants come to the U.S. on this program. More than 200,000 international visitors have engaged with Americans through IVLP, including 500 current or former Chiefs of State or Heads of Government.
The International Institute has the ability to facilitate virtual meetings in Graduate School USA's Online Learning Department's in-house studio and certain classrooms. The online video conferences are conducted by utilizing Adobe Connect software. This flash-based tool runs video smoothly, and allows the presenter to display a PowerPoint presentation alongside the video broadcast. There are several microphones in the studio to enhance the sound quality. Graduate School USA's Distance Education Technology Specialist, who oversees the virtual opening, can also provide a highly customizable backgrounds that could include various images and/or logos.
In addition to hosting project openings, the virtual studio frequently connects IVLP participants with resources outside the greater capital area. These online meetings are a cost-effective way to facilitate connections and learning from communities that are not included in the participants' itinerary.
Another valuable feature offered by the studio are pictures of the event, as well as recordings of the meeting. The studio can webcast meetings live using Adobe® Connect™ or WebEx® and is used for hosting webinars, recording online learning sessions, video commercials, etc. We regularly conduct virtual project openings in conjunction with CBM's across the country.
Some examples include:
We launched a project with 10 participants from the Pacific Islands entitled "Obesity, Nutrition, and Non-Communicable Diseases." The participants were in Honolulu, Hawaii at the Pacific & Asian Affairs Council. The welcome and introduction to the program was conducted via teleconference. The Department of State Program Officer and one of our programming teams joined the group from Washington, DC.

We conducted a virtual project opening in conjunction with The World Affairs Council of Seattle for a group of seven English language professors from Venezuela.
• U.S. Department of State One of the U.S. Department of State's most important responsibilities is shaping and sustaining peaceful cooperation between the people of the United States and the people of other countries. Within the U.S. Department of State, the Bureau of Educational and Cultural Affairs (ECA) aims to fulfill this mission by means of educational and cultural exchanges that increase mutual understanding like the International Visitor Leadership Program.
• Global Ties US Global Ties US is a partner of both the US Department of State and Graduate School USA's International Institute. Global Ties US supports the network of National Programming Agencies (NPAs) and the Community Based Members (CBMs) spread across the country with whom we work closely to implement individual IVLP projects.
Global Ties US is responsible for cultivating, connecting, training and strengthening CBMs through organizing professional development, networking and knowledge exchange opportunities. Global Ties US is highly connected to the world of international exchanges, through their involvement in programs like Meet America and Discover Diplomacy.
Exchange projects cover a broad array of topics including agriculture, disability rights, higher education, emergency management, entrepreneurship, food security, government, immigration and refugee issues, journalism and media, law enforcement training, national security/defense, NGO management, politics/elections, primary and secondary education, women's issues, and youth leadership.
Almost all IVLP projects begin in Washington, DC, where participants spend three to five days meeting with professional counterparts in government agencies, nonprofit organizations, think tanks, academia, and businesses. Some of the organizations with whom our groups have recently met are:
Government
Departments of Agriculture, Department of Defense, Department of Health and Human Services, Department of Homeland Security, and the Department of Justice; the Federal Bureau of Investigation, Federal Election Commission, Government Accountability Office, Office of Government Ethics, Office of the U.S. Trade Representative, U.S. Supreme Court, White House Office on Disabilities, and numerous offices of members of Congress.
Media
Associated Press, Washington Post, Washingtonian Magazine, Washington Times, WETA-TV, and Fox 5 DC.
Law Enforcement
DC Metropolitan Police Department, Arlington Police, and the National Center for Missing and Exploited Children.
Think Tanks & Nonprofits
The Brookings Institution, Center for Strategic and International Studies, and Heritage Foundation; the American Diabetes Association, American Soybean Association, Common Cause, National Association for the Blind, International Red Cross, and Transparency International; the National Democratic and Republican Committees; 1776, and Wal-Mart.
Businesses
Oracle, Wal-Mart, Lockheed Martin.
Academia
George Washington University, Georgetown University, American University, The Catholic University of America, George Mason University, University of Central Florida.
| | | |
| --- | --- | --- |
| Nina Bankova | | (202) 314-3508 |
| Bill Bobbitt | | (202) 314-3582 |
| Tunde Akinmade | | (202) 314-3526 |
| Ting Wang | | (202) 314-3507 |
| Nathan Eckman | | (202) 314-3524 |
| Alison Grausam | | (202) 314-3504 |
| Theresa Hale | | (202) 314-3513 |
| DaSean Kornegay | | (202) 314-3404 |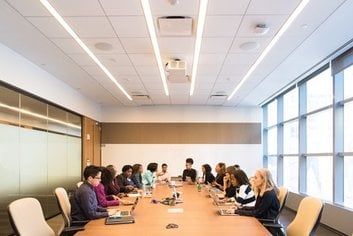 IVLP Projects
We offer the training and education options you need to strengthen your skills as you advance your career and support your agency's mission. 
IVLP Alumni
Hundreds of Graduate School USA's classroom and online courses, in a wide range of subject areas, are available for contract and on-site training. We can also provide customized support to your agency.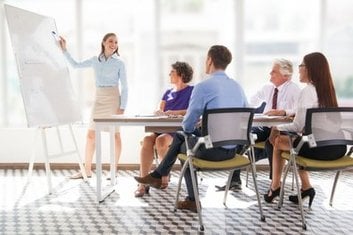 IVLP Testimonials
Experience the convenience of training at your desk. Graduate School USA delivers engaging, convenient, cost-effective learning experiences through live, self-paced, and blended online products and learning options for both organizations and individuals.