Graduate School USA presents the W. Edwards Deming Outstanding Training Award to government organizations that exemplify excellence with initiatives or programs that focus on enhancing quality processes within those organizations. The 2021 award recipients were announced during a virtual ceremony held on October 20, 2021.
This year, the Deming Award was presented in one category —  Innovation — with a focus on two areas:
Human Capital Management
Technology
2021 W. Edwards Deming Outstanding Training Award Finalists:
U.S. Army Public Health Center
Workforce Development Branch at the Naval Undersea Warfare Center, Division Newport
Fleet Readiness Center Southwest, Department of the Navy
Consequence Management Communications System Team, Naval Air Warfare Center
National Institutes of Health Training Center
Department of State ILMS Change Management Team
U.S. Environmental Protection Agency - HED University
Department of Housing and Urban Development, Office of Housing, Office of Risk Management and Regulatory Affairs
Department of Homeland Security, Office of the Chief Procurement Officer, Procurement Innovation Lab
National Institutes of Health, OHR Engagement and Development Branch
U.S. Patent and Trademark Office, OHR, Enterprise Training Division, Emerging Leader
U.S. Patent and Trademark Office, OHR, Enterprise Training Division, Mentor Program
Department of Commerce, Global Markets Office of Strategy and Engagement
AND THE WINNERS ARE:
Department of State ILMS Change Management Team
"Virtual Global Logistics Training Initiative"
The Integrated Logistics Management System (ILMS) Change Management Team at the U.S. Department of State, Bureau of Administration, Office of Logistics, provides global logistics training for over 35,000 users in 282 embassies and consulates in 180 countries across the globe. The ILMS system is a mission-critical system for users to procure $11 billion dollars in goods and services a year — everything from pens and pencils to armored cars.  
The global pandemic halted the team's ability to train users early in 2020. To meet the needs of users and maintain an efficient supply chain, training needed to continue. A strategy grounded in quality methodology was created and four goals were established: to train virtually, increase users trained, improve data quality, and improve training effectiveness. Over the course of a few months, with the input from industry experts and diplomats, the team transformed the program. Weeklong in-person courses were adapted into engaging virtual courses. Courses were assessed to identify learning gaps and increase durability, and adult learning methods were incorporated to increase engagement with students. Then, virtual training tools were integrated to support a variety of cultural and literacy needs, on-demand videos were created to support users 24/7, and a new offering was created to diagnose embassy supply chain issues and provide individual support.
The data in the months following demonstrated this was the right direction, as users trained increased by 47 percent, post outreach increased by 22 percent, and data quality increased by 49 percent. These results were achieved without increase to budget or staff.  The program is now positioned to support ILMS users across the globe and power diplomacy no matter what the future holds!
Procurement Innovation Lab
Office of the Chief Procurement Officer
U.S. Department of Homeland Security
"Acquisition Workforce Procurement Training Project"
The Department of Homeland Security (DHS) Procurement Innovation Lab (PIL) was established in 2015 as a safe space for procurement teams to explore innovative strategies that would provide faster delivery, better solutions, and greater value to the DHS mission. Procurement teams from across all of the Department's components have entered into the PIL and tested their innovative ideas to solve mission challenges. The PIL's framework of testing and sharing is supported by senior leadership fostering a collaborative learning culture empowering teams to take smart risks to improve mission outcomes.
In FY 2020, the DHS acquisition community saw the currents of change produced in the PIL's first five years grow as a result of the global pandemic. The DHS Chief Procurement Officer (CPO) at the time, Soraya Correa, challenged the PIL to quickly and effectively help procurement teams interact with industry virtually throughout the acquisition lifecycle. The PIL devised a multi-prong approach to overcome the challenges of being thrust into a virtual environment which included a need for continuing education to reach acquisition workforce (AWF) members. The PIL team adapted its in-person procurement innovation trainings from an eight-hour course to four hours virtually, and this pivot allowed the PIL to reach more acquisition workforce professionals, including 550 attendees of the National Contracts Management Association (NCMA) 2021 World Congress!  The COVID-19 meeting restrictions ultimately resulted in the PIL effectively reaching an even larger portion of the federal acquisition workforce.
The PIL interactions have had positive outcomes for the acquisition workforce as evidenced by data collected in the DHS Competing Value Framework (CVF) cultural assessment and surveys completed by attendees of PIL training events.  The transition to the virtual environment recharged the workforce, inspiring workforce members to find new ways to obtain agency requirements. The PIL continues to support DHS and federal acquisition teams as they test new ideas of tomorrow. By remaining flexible and continuously adapting, the PIL assists the federal acquisition workforce as the acquisition ecosystem and operational mission environments continue to evolve.
Congratulations to the 2021 award recipients, whose commitment and dedication to quality and teamwork has led to organizational success.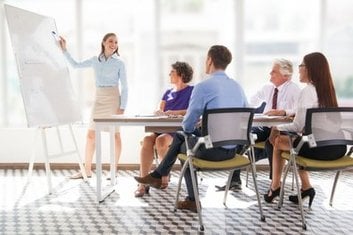 2018 Deming Award Winners
Meet the 2018 W. Edwards Deming Outstanding Training Award winners, whose programs exemplify quality, teamwork, and excellence.
Deming Award | Nomination Form
Stay tuned for information on nominating your team for the 2022 Deming Award.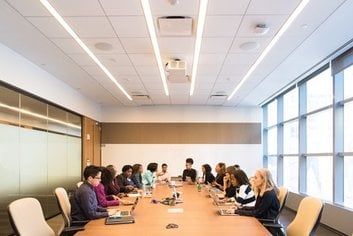 W. Edwards Deming Outstanding Training Award
Recipients of the Award have demonstrated innovative training through a workforce initiative that has measurably benefited their organization.