The GSUSA Experience
Graduate School USA provides a stimulating environment for a community of learners who value networking and sharing experiences, while developing the skills and knowledge that will help them improve agency productivity, as well as enhance their careers.
Committed to supporting our clients with practical, real-life applications that assist them in doing their jobs, we deliver the training solutions that only a valued partner with 95 years of federal government experience can provide.
What We Offer
Government training and professional development
Continuing professional education
Customized training and solutions
Distance education
Leadership training
Career development
From the start, we've focused on teaching skills that participants "can take right back to work." Our courses and programs equip you for the requirements and challenges of your job with skills that address real-world needs.
The GSUSA learning environment supports individuals across the spectrum of skills, specialties, and experiences as they expand their professional knowledge, increase their expertise, and pursue their passions. Participants are empowered with options and resources for growing their careers as they support their organizations.
Agencies and individuals rely on Graduate School USA for professional training and development that supports organizational and career success. And our instructors are a big part of the reason they keep coming back.
GSUSA courses are delivered by experts who bring relevant professional experience to their teaching and share a genuine commitment to addressing real-world needs in the classroom.
At Graduate School USA (GSUSA), we understand that the entire learning experience is important. That's why we provide the support you need to get the most out of your time with us, from registration through course completion.
Get assistance with course selection, registration, and more. Have certification or other requirements to meet? No problem. If you need course customization or on-site training, we can make that happen, too. GSUSA's business and curriculum development experts can work with you to make sure you get exactly the kind of training you need, when and how you need it.
As a learning partner to government for 95 years, we have a deep knowledge of the regulations and requirements that affect your training—GSUSA Customer Relations Representatives are prepared to address the unique needs of individuals and agencies when it comes to purchasing, registration, and contracts.
Knowledgeable, well-prepared customer service professionals: They're part of the GSUSA Difference.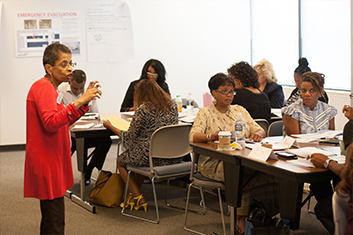 Policies
It is our goal to give you a memorable training experience. Review policies and procedures to assist you with understanding our expectations, processes, and procedures. The policies and guidelines provided here are maintained by the Office of the Registrar.