ACCET Accreditation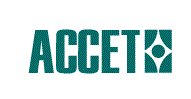 Graduate School USA is accredited by the Accrediting Council for Continuing Education & Training. As an ACCET accredited institution, we are listed in the American Council on Education's Accredited Institution's of Postsecondary Education Directory and the CHEA Almanac of External Quality Review, which are widely utilized by government agencies, military services, and private entities for identifying credible education and training organizations. ACCET has been officially recognized by the U.S. Department of Education, since 1978, as a "reliable authority" as to the quality of education and training provided by the institutions they accredit.
ACCET may be reached at 1722 N Street NW, Washington, DC 20036; 202-955-1113.
If you have a formal complaint that has not been resolved by Graduate School USA's formal complaint procedure, you may submit your complaint in writing to ACCET via the online form found on the ACCET website.


Graduate School USA is a continuing training partner with ASMC. Graduate School USA has over 220 courses which are aligned with DoD Financial Management and Leadership Competencies in DoD's MyLearn system that have been approved and map to the multiple levels of CDFM certifications.
Graduate School USA is approved under the following categories of the General Services Administration (GSA) Professional Services Schedule C874.

Schedule 874.1 MOBIS Consulting Services Schedule 874.4 MOBIS Training Services
The Graduate School USA GSA Professional Services Schedule C874 contract number is GS-10F-0228P.

Read more about GSA Professional Services Schedule C874 services.
Graduate School USA is an approved Equivalent Provider of the Defense Acquisition University. The partnership provides a continuum of coursework to support the consistent and continuous development of the Defense Acquisition Workforce's capabilities as they relate to effectively and efficiently implementing the Defense Acquisition System. Visit the Defense Acquisition University for more information.
DAU Equivalent Courses:
• ACQI7501D Introduction to Government Contracting (CON100 Equivalent)
• ACQI7222D Contracting Officer's Representative Course (COR206 and COR222 Equivalent)
Many of Graduate School USA's daytime courses, particularly those in acquisition, auditing, and financial management, offer continuing professional education credit (CPE).
States and many professional organizations have CPE requirements to meet standards, maintain CPA licenses and professional certification to improve the professional proficiency of the individual and the quality of the financial management and auditing professions.
The American Institute of Certified Public Accountants, individual state boards of accountancy, the National Association of State Boards of Accountancy, the Association of Government Accountants, U.S. Government Accountability office are a few of the organizations and agencies that require CPE.
Each 50 minutes of a program or training activity will be recorded as one CPE credit.
Graduate School USA is registered with the National Association of State Boards of Accountancy (NASBA) as a sponsor of continuing professional education of the National Registry of CPE sponsors. State boards of accountancy have final authority on the acceptance of individual courses for CPE credit.
Complaints regarding registered sponsors may be addressed to: National Registry of CPE Sponsors, 150 Fourth Avenue, Suite 700, Nashville, TN 37219-2417
CPE credits are for instructor-led/group-live/virtual courses only.
In addition, Graduate School USA has sponsorship agreements with the following state boards of accountancy that recognize us as an approved source for continuing professional education credit for licensing purposes.
Sponsor ID Numbers:
National 103183
New Jersey 20CE00214500
New York 000762
Texas 009368
For complete program information, as required by NASBA Standard No. 8, please visit our website or call (888) 744-GRAD.