We Can Bring Our Training to You.
Hundreds of classroom and online courses in a wide range of subject areas are available for contract and on-site training. Use our online course catalog to select the course, topic, or subject area that meets your specific training or program needs. You may receive a price quotation for your desired courses by completing our Contract for Training at Your Location form.
If your training needs require a customized approach or are larger in scope, we can provide you with advice on the time required for each topic and the length of the overall training or help you assemble a program. Contact our Business Development team at onsite@graduateschool.edu or 800-787-9074 for assistance with your specific needs, or read more about our customized services.
Graduate School USA holds the GSA Professional Services Schedule C874 (MOBIS) Contract Number GS-10F-0228P for 874.1 Consulting Services and 874.4 Training Services.
Cost Savings
You are cost-conscious—so are we. By bringing Graduate School USA courses to your location, you can eliminate the cost of sending your on-site staff to another site. Choosing on-site training means your organization will:
Eliminate travel costs like employee airfare, transportation, per diem, parking, and rental cars.
Maximize employee training time with no need for travel, overtime, or compensatory pay.
Save with pricing levels based on number of participants.
Convenience
Choose the best time to learn based on your employees' workloads and schedules.
Benefit from courses scheduled to fit your needs.
Experience turn-key delivery—pick the training, time, and place, and we handle the rest.
Relevance
Tailor off-the-shelf training and incorporate examples and content specific to your agency.
Specialized Client Services
Get assistance with site selection, scheduling, marketing, and more.
Delivery Format
Select from a variety of formats, including instructor-led classroom sessions or a variety of distance education options
With Remote Classroom, you are able to participate in training as if you were actually right there in the classroom. You can observe all instructor presentations and videos, participate in exercises and activities, and communicate real time with your instructor and peers, from the comfort of your home, office, or other location of your choice.
Each Remote Classroom has been fitted with a video camera. By logging into our online classroom from your computer or mobile device, you will be able to participate remotely in all aspects of the course.
With Remote Classroom:
• There is no travel required
• You can attend from the comfort and convenience of the location of your choice
• Get increased access to a range of classes not available in your area
• Complete your certificate remotely
• Earn NASBA CPE credit just like in the face-to-face classroom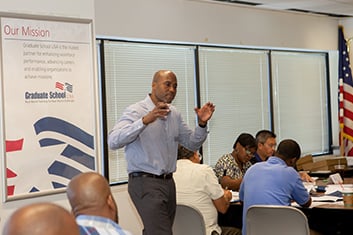 Contract Only Classes
Graduate School USA can deliver any of our courses or workshops to a location of your choice. This option is perfect for organizations with specific training and development needs.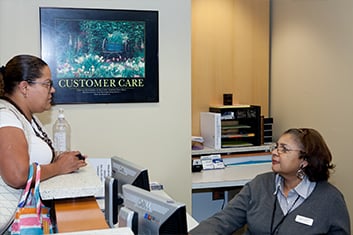 Custom Course Design
Graduate School USA can tailor our courses and programs to meet your organization's requirements, or design and develop new courses that address your needs.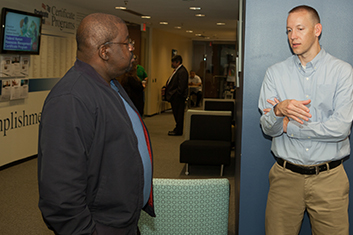 GSA Contracts
Graduate School USA is an approved contract holder to provide training and consulting services under Professional Services Schedule, SIN C874.